Do something really special this year for Mother's Day, and put together one of these adorable DIY gift baskets to give to Mom. Draw inspiration from the baskets below: you can put them together with stuff you buy at your favorite store for $25 and under, or from what you already have at home!
Check out our Gift Ideas pinboard on Pinterest for gift basket inspiration!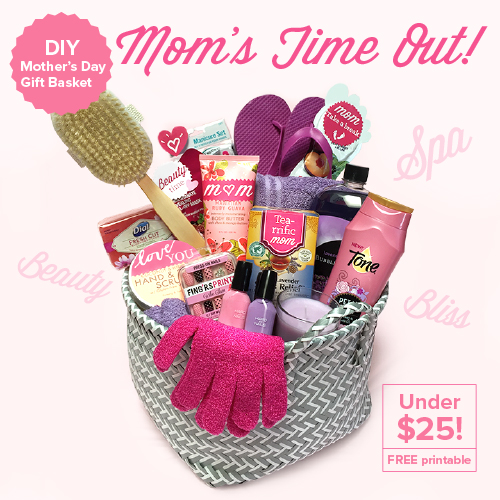 Mom's Time Out!
This soothing basket can be put together for $25, and is a perfect accompaniment for when you pamper Mom with a day at the Spa. Build this basket with our Walmart wish list, and pick up a bottle of Purex Crystals ScentSplash while you're there!

A Chocolate Escape!
Indulge Mom's sweet tooth with decadent chocolate, luxurious coffee, and soothing tea for under $25. Start building your basket using items from our Target List. In the event of chocolate stains, lift them out using Purex PowerShot.

Garden Party!
This adorable basket is a great gift to give to Moms who loves the fragrance of flowers and the bliss of a well-kept garden! Head to stores such as Kroger, Home Depot, and Dollar Tree to put this $10 basket together. Purex Natural Elements is the perfect green accompaniment for this basket.

A Chocolate Escape!
Let's face it: you probably already have most of the items you need to give Mom a chocolate escape. Here's a list of things around the house that could go in this last-minute gift basket, and your kids could even help! Don't forget – Purex PowerShot is excellent at cleaning stains!

Share your Gift Basket ideas in the comments below!